Introduction

|

Details

|

Rules

|

Judging Criteria

|

Contacts
Celesticon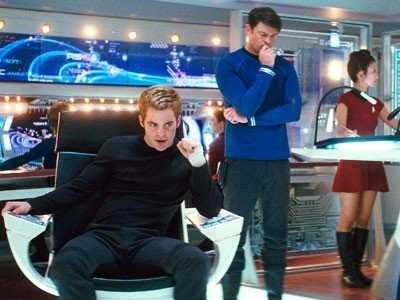 "Thruster's on your command sir…. Weapons systems on Standby….. Dock Control reports ready Captain…
Kirk: Set the thrusters to maximum, Mr. Sulu…. Let's punch it….."
Are you ready to decode the mystery of the final voyage of the Starship Enterprise who mission is to discover life on planets far beyond our own Milky Way?
Your objective is simple and clear … Help the USS Enterprise to locate such ET life forms while battling the unknown mysteries in space where not a soul can be heard…
Prizes worth INR 10,000 to be won!
Details
Celesticon is an Open Quiz on Astronomy & Astrophysics set to test your skills & knowledge in the aforementioned fields. This Contest comprises of 3 Rounds –
(For *, ** and other footnotes refer the general rules)
Round1: Written Quiz Round
1. This round is open to all. It consists of total of 25 Questions of objective type (No MCQ') on Astronomy & Astrophysics with each question worth 5 points and -1 for wrong answer.
2. This round is conducted in a team of 2 participants and has a time limit of 25 minutes to answer all the questions correctly.
Round 2: Audio/ Visual Round
1. Only 8 teams from Round 1 will progress to Round 2.*
2. The score of the previous round will be carried forward to Round 2.
3. This Round will require analytical thinking to visualize and answer the problems asked per team correctly. .
4. A total of 12 questions will be asked to the teams. Note that this is not a buzzer round.
5. Each Question is worth 10 points and no negative points for wrong answer.
6. In the situation of a tie, 1 tie breaker question for 10 points will be asked to the teams whose scores are tied and this will be a buzzer question.
Round 3: Conventional Buzzer Round
1. A total of 3 teams from Round 2 will progress to Round 3.*
2. The cumulative scores of Round 1 & Round 2 will be carried forward.
3. A total of 10 questions will be asked to the teams and as the title states, this is a buzzer round.
4. This round comprises of questions from Astronomy & Cosmology and a question un-answered or wrongly answered by a team will lead to a pass over of the same question to the next team.
5. Each question is for 50 points and -10 for a wrong answer. If the question is passed over to the next team then, for a correct answer they will be awarded 20 points and -5 for the wrong answer.
Rules
1. * This number stands at the discretion of the quiz master at that time.
2. Since the scores are carried forward for each round, the team with the maximum cumulative score (FS) will be declared the winner of the Celesticon.
3. A Question is classified as an MCQ or Multiple Choice Question, if it contains Multiple Choices for answering. As stated above, in Round 1, the questions will have NO options for the answers. For Round 2 & 3, MCQ's can be asked.
4. A pen and paper will be provided to each team for answering in all the rounds.
5. Any sign of copying and prompting of answers will lead direct disqualification and the final verdict stands in the hand of the quizmaster.
Eligibility
This Quiz is open to all. However, all the rounds require the team of 2 participants and no exchanging of partners will be allowed once a team has been chosen for Round 1.
Team Specifications:
Minimum :
1 members
Maximum :
2 members
Judging Criteria
| | | |
| --- | --- | --- |
| Category | Points/ Question | Total Points |
| Round 1 : 25 Q | 5 | 125 |
| Round 2 : 12 Q(total) | 10 | 120 |
| Round 3: 10Q | 50 | 500 |
| Total | | 745 |
The Final score card is (FS) = Points (R1) + Points (R2) + Points (R3)
The team with the maximum FS is the Winner for the Celesticon.
Resources
Contacts
For any further queries, mail us at [email protected] or contact us --
Arnav Goel
Event Manager
+919930857340