Challenge. Compete. Evolve.
Elixir
Bringing life to the festival, this segment of Quark 2012 is for "the crazy ones, the misfits, the rebels, the troublemakers, the round pegs in the square holes... the ones who see things differently -- they're not fond of rules...". It's for the Almost-Geeks, the Just-About-Nerds, the ones still enthralled by the Beauty of Basic Knowledge!
Presenting mind-teasing Events in the roots of Pure Sciences, Elixir offers the Young Scientist an opportunity to Dabble with Chemistry to solve everyday life problems; to let the Physicist in you define a New World; to use Mathematics to solve Crime; to cash-in with your Design and Creative Skills! Ofcourse, for those who aren't limited by the boundaries of "subject-definations", there's The Quark Open Quiz and The Amazing Race awaiting you!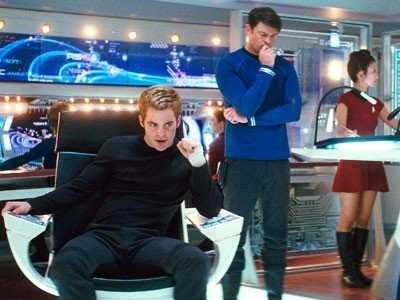 "Thruster's on your command sir…. Weapons systems on Standby….. Dock Control reports ready Captain…
Kirk: Set the thrusters to maximum, Mr. Sulu…. Let's punch it….."
Are you ready to decode the mystery of the final voyage of the Starship Enterprise who mission is to discover life on planets far beyond our own Milky Way?
Your objective is simple and clear … Help the USS Enterprise to locate such ET life forms while battling the unknown mysteries in space where not a soul can be heard…
Prizes worth INR 10,000 to be won!
Have you always wanted to be that Mad Scientist who threw a couple of Chemicals together and let the world go boooom? Did you spend your childhood like Dexter, running around surrounded by test-tubes and vibrant chemicals? Do you see what others don't...? The chemistry that surrounds us all…?
You're hungry, and you don't think a moment before gulping down that totally delicious looking burger. That beautiful night during Diwali, when you wonder how it's possible to flash those intricate designs over the sky. A date with your special someone, when your hand automatically reaches out for that bottle of wine. Have you ever stared at a tree and wondered why leaves turn beautiful colors in autumn? Even when you're sick you know what you've gotta do right? Gulp down that little tablet and it works like magic, doesn't it? If all this fascinates you and makes you pause for a moment, Chemophilia is the event for you…It's time you put on your thinking caps and bring out the Chemist in you. It's time you think out of the box and identify the Simple Chemistry you perform every day without even realizing it!
Prizes worth INR 12,000 to be won!
"Never overlook the power of Simplicity"
Numbers is back with a bang!!
And this time, you need not be a mathematical prodigy to be able to solve the intricacies involved in mind boggling mysteries. Pure logic and sheer analysis is what it takes to unfold the secrets behind baffling cases. This event is for the purest minds which can use the most fundamental of math concepts to give awe inspiring Solutions to seemingly "Tough" Problems.
In this event participants are given self-contained passages which explain new concepts. The participants are expected to use the given ideas to provide solutions for the questions posed. In the final round participants are presented with a complete case study, to be solved by observing and manipulating the given ideas.
Prizes worth INR 12,000 to be won!
(Marketing, Advertising and Design)
It is Time to give those ripples of ideas a momentum and send forth a smashing tornado!
It is Time to dare to be different.
it is Time to be completely crazy and win big bucks with wackiness!
It is Time to be creative.
It is Time to think out of the box
It is Time to be MAD!!!
The event will test your creativity, innovation, originality, marketing and promotional skills, along with your zest and technical skills for Photoshop and video making. There are NO prerequisites for participating in this event, except for familiarity with Adobe Photoshop.
M.A.D goes Bigger and Better this time with Mahindra Rise as the official partners. Your entry now stands to win not just prizes worth INR 30,000, but it may also become one of the faces of the Mahindra Rise campaign!!
For all those who have been toying with ideas and designs, here's how you officially make it big with MAD and Mahindra. ,
Certification from Mahindra.

Judging by GM-corporate strategy and brand management of Mahindra and Mahindra ltd

The winners videos will be used by Mahindra Rise for their own campaign and will be posted on their Facebook and twitter pages
PLEASE NOTE: ALL PARTICIPANTS REGISTERING AFTER 23rd JANUARY WILL BE GIVEN A CHANCE TO GET INTO THE SECOND ROUND OF THE EVENT DIRECTLY BUT WILL NOT BE ELIGIBLE FOR THE GOODIES WORTH 5K FOR THE FIRST ROUND
We all have some weird intriguing questions related to life sciences which pop up in our mind every now and then, like -
Which came first hen or the egg?
Was forensics invented by scientists?
Does man have psychic power?

These look like silly questions but they are not. So here is your chance to satisfy your curiosity...

Quark 2012 presents Psy-Fo-Genesis!

Get a piece of Charles Darwin's mind and explore the nature's labyrinthine games of evolution. Learn about a silent witness to every crime and find out the reason behind thought, emotion and behaviour. The event will focus on Evolution, Forensics, and Psychology. So get ready to be a part of this event, and delve into the intricacies of biological applications in various fields.

Prizes worth INR 10,000 to be won!
So you think you know all the Conversion Forms of Energy? You think you have the Passion to Make Things just out of junk or trash? Well then, Newton's Junkyard is the place for you! Turn your imagination into a maze of energy jumps to make a contraption.
Prizes worth INR 12,000 to be won!
Knowledge is power supreme, and so shall be proven this February. Buzzers buzzing, scoreboards ticking, and hearts racing, this business and sci-tech quiz is a test not only of intelligence, but also the ability to stay calm under pressure. It's an arena where only the best minds can survive, so oil your cogs and set the wheels of your mind in motion.
Also, in the spirit of our constitution which ensures equality to all and sundry, any one, irrespective of their caste, creed, sex, gender, college degree, marital status and/or incarceration records, can participate. See you (t)here!
Prizes worth INR 12,000 to be won!
The Amazing Race
The most awaited event in Quark is back, and this time with new challenges to tantalize your brain. With more than 400 participants in Quark '11 and promises to get even bigger, it's bound to eke out every small component of your knowledge pool. So pit your skills against the very best and brace yourself for a breathtaking 2-day journey. The contestants will be tested in general knowledge, science, business, technology, and various other topics plus a really good eye for little things around you that most people won't look twice at. The fastest to crack the puzzle and find the treasures stands to win prizes worth thousands.
Prizes worth INR 15,000 to be won.